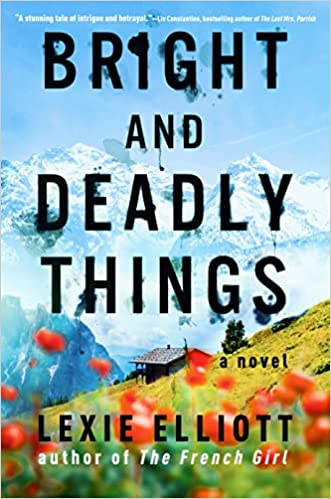 BRIGHT AND DEADLY THINGS BY LEXIE ELLIOTT
(Available for pre-order)
Lexie Elliott writes novels of psychological suspense so distinctive they are in a class of their own. Her immersive stories are set in atmospheric and unusual settings and explore the unexpected outcomes when groups of people are brought together in close quarters—whether that be a room, a resort, or a retreat. And her novels are infused with a subtle and mesmerizing supernatural undertone that drives each story forward.
The Scottish author's fourth thriller, BRIGHT AND DEADLY THINGS, which Berkley will publish in hardcover on February 14th, 2023, is set at the Chalet des Anglais, a remote and rustic mountaintop retreat in the French Alps. It's been a real-life destination for Oxford University students and dons since 1891, and Lexie attended an invitation only "reading party" there while working on her doctorate in theoretical physics. Years later, she realized that the Chalet, with its isolated location and strange history (it burned down in 1906 and was rebuilt in 1909) was perfectly suited for a tale of intrigue and deception amongst a close-knit group of academics.
The novel's protagonist is Dr. Emily Rivers, a widowed Oxford don. Still utterly devastated over the death of her husband, she decides to attend a reading retreat at the Chalet des Anglais with her friends and colleagues, in hopes of finding some inner peace and calm through work and camaraderie. But the group is on edge due the discovery of a clandestine relationship in their midst and competition for a recently opened position in the department. All the while, Emily wrests with paranoia and fear that seem brought on by her grief, but it's undeniable that someone very real has been searching through her things and attempting to hack into her computer.
Underlining the tension is the sound of ominous, discordant bells from a curious grandfather clock—the only piece of furniture to survive a deadly blaze a century ago—that then begins to invade everyone's dreams and spread a sense of malevolence amongst them. And when one of the students is murdered, Emily realizes that she must determine who her true allies are, and what's real and what is simply imagined—before time runs out.
ABOUT THE AUTHOR:
Lexie Elliott grew up at the foot of the Scottish Highlands, attending a local state high school and spending much of her teenaged years writing stories, reading and swimming. In 1994 she began a physics degree at University College, Oxford University and went on to earn a doctorate in theoretical physics, also from Oxford. An avid athlete, she represented Oxford her entire seven-year collegiate career in swimming and/or water polo.
After university, Lexie worked for an investment bank in London for several years. During that time, she also took up competing in triathlons, met her husband, got married and had two gorgeous boys, swam the English Channel solo, ran marathons and ultramarathons, and tried in vain to carve out enough time to write a novel.
After losing her banking job during the Global Financial Crisis, she wrote The French Girl, which was published by Berkley in 2018 and was subsequently followed by The Missing Years and How to Kill Your Best Friend. Her fourth psychological thriller, BRIGHT AND DEADLY THINGS, will be published by Berkley in February 2023.
Lexie Elliott lives with her family in London. When she's not writing, she can be found running, swimming and juggling family life while thinking about a twisty plotline for her next book.
Visit her website: https://www.lexieelliott.com
Instagram: @lexieelliottwrites
Facebook: @lexieelliottwrites
Additional social media tags Facebook: @meganbeatiecommuni