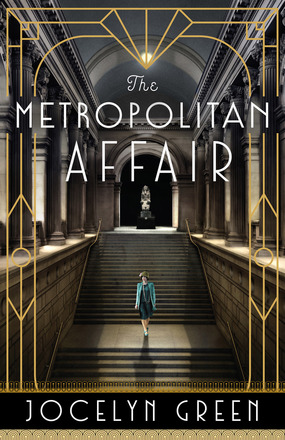 THE METROPOLITAN AFFAIR
Author Jocelyn Green Introduces a Dazzling New York–Set Historical Series
(Releasing tomorrow!)
Well-loved for her vivid writing and rigorous historical research, Christy Award–winning author Jocelyn Green plunges into the depths of one of New York City's most esteemed museums, where a young woman discovers secrets, betrayal, and romance in this exhilarating series starter. Appealing to fans of Katherine Reay, Sarah Sundin, and Fiona Davis, Green sweeps readers into a tantalizing historical tale in her latest novel, The Metropolitan Affair.
For years her estranged father promised Dr. Lauren Westlake she'd accompany him on one of his Egyptian expeditions, giving her hope for the sense of belonging she's always craved. But as the empty promises mounted, Lauren determined to earn her own way. Now the assistant curator of Egyptology for the Metropolitan Museum of Art, Lauren receives two unexpected invitations.
The first is her repentant father's offer to finally bring her to Egypt as his colleague on a fascinating new expedition. The second is a chance to enter the glittering world of New York's wealthiest patrons who have been victims of art fraud.
With Egyptomania sweeping the city after the discovery of King Tut's tomb, Detective Joe Caravello is on the hunt for a notorious forger preying on the open wallets of New York's high society. Dr. Westlake is just the expert he needs to help him identify fake relics and track down the con artist. Together they search for the truth, and the closer Lauren and Joe get to discovering the forger's identity, the more entangled they become in a web of deception and crime.
ABOUT THE AUTHOR: 
Jocelyn Green inspires faith and courage as the award-winning author of numerous fiction and nonfiction books, including The Mark of the King, A Refuge Assured, and THE WINDY CITY SAGA. Jocelyn lives with her husband and two children in Iowa. Visit her at www.jocelyngreen.com.