Getting past the librarian's guard…
Trent Jamieson isn't one for virtual romance, but there's something about the intriguing woman he meets on the Internet he can't resist. Then the small town bachelor discovers the mystery woman who shares her secrets with him online is the laced-up librarian in his self-defense class! Veronica Sussingham may just be his toughest student yet. Because how can he show the vulnerable beauty that some men are worth letting your guard down for?
Veronica returned to her hometown seeking shelter for her shattered spirit. The last thing she needs is a blue-eyed charmer who wants to show her how to live—and love—again. Then she discovers Trent is not just another admirer, but a man who knows her deepest secrets. Now Veronica must choose between running from her past—or finding future happiness with the kind of man she swore she'd never fall for….
EXCERPT:
Veronica searched the recesses of her memory for the details from an article she'd read online about elevator safety.
"You should relax. Once you push the emergency button, there's not much more we can do."
He glanced back and chuffed a disagreeable sound, right before hitting the door several times. After a moment, he gave up and paced in the small space.
She fiddled with the smooth beads of her pearl necklace, but they didn't bring their usual sense of calm. The stranger continued his random patrol, his thoughts his own.
Veronica recalled the article details. She stepped to the door and peeked through the crack. "There's light up there." She glanced up to see where they had gotten stuck and returned to the crack, hoping to gauge how close they were to signs of life. "We're close to the fifth floor. Someone should be here soon."
He moved behind her, too close for her comfort. In the space above her head, he pressed his eye to the crack.
She gritted her teeth and stepped aside. "I'd be happy to move."
He didn't respond, only banged on the door again and yelled, "Can anybody hear us?"
She sighed, loudly, hoping to make a point. He continued banging. When he stopped, she cleared her throat.
He turned, raised his brows. "Yes?"
"Relaxing in a crisis lets you think clearly. You might want to give it a try."
His mouth slackened and eyebrows rose, as if nobody had ever asked him to chill. Looking up, he studied the ceiling. "I'll bet that panel pops out. I could help you shimmy up there." His gaze dropped to the lower half of her dress, and he wrestled with a smile. "Or you help me up."
"I'm not doing either. Want to know the first rule of elevator safety?" She tipped her head but didn't wait for his answer. "Stay put. Climbing out is the last thing you should do. So save your energy, Bruce Willis. We could be in here a while."
"Bruce Willis?"
"In Die Hard. Wasn't he in an elevator when he fought those terrorist?" She again brushed at the toothpaste remains. "Not that I typically watch his movies."
He chuckled and the frustration evident on his face slipped away as he considered her for a moment. He took a step toward her. "Sorry. I'll calm down. You're ri—"
The elevator lurched. Veronica grabbed his arms at the same time he reached for hers. They steadied themselves for a few seconds, their eyes locked. The elevator smoothed and each let go.
She leaned over and picked her purse up from the floor just as the doors opened at the fourth floor.
He motioned with a sweep of his hand. "Ladies first."
She nodded and hurried out, greeted by a short man wearing maintenance overalls.
"You two okay?" he asked.
She hoisted her purse over her shoulder. "I am, thank you. Which way to the stairs?"
He pointed down the hallway.
"Thanks." She hurried down the hall. If she dropped Duncan's package off fast, she might still catch the keynote speaker's address.
"Hey?"
She stopped and turned at the sound of her fellow passenger's voice.
He studied her with a curious stare, then grinned, kind of sweet, as if they'd become best buddies during their quest for elevator survival. "Bye. Nice to meet you."
"Oh, right. Good-bye." She rushed inside the stairwell, flustered but not really sure why. What else could go wrong today?
You can purchase Harvest Moon at:
Amazon   /   Barnes & Noble   /   Kobo   /   Google   /  Apple​   / Amazon UK

ABOUT THE AUTHOR: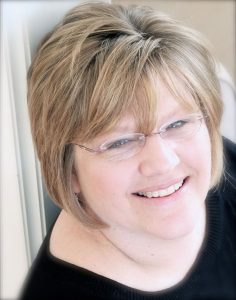 Bestselling author Sharon Struth believes you're never too old to pursue a dream. The Hourglass, her debut novel, is a finalist in the National Readers' Choice Awards for Best first Book. Her follow-up release, SHARE THE MOON-Book one in the Blue Moon Lake Novel Series-is published by Kensington Books and is a Barnes & Noble romance bestseller. The series also includes Twelve Nights (11/15), Harvest Moon (12/15) and Bella Luna (2016).
She writes from the friendliest place she's ever lived, Bethel, Connecticut, along with her husband, two daughters and canine companion. For more information, including where to find her published essays, please visit www.sharonstruth.com 
Author Website: www.sharonstruth.cm
Social Media
Website
Musings from the Middle Ages
Facebook
Twitter
Goodreads