Romancing the Sweet Side – Featuring Sweet in His Arms by Megan Slayer
99% of the proceeds go to One Way Farm in Cincinnati, Ohio
Rubbin' is racin', especially if it's done with a little sweetness and the right man.
Ryan Dane always knew where his heart was—in racing. He loves the sights, smells and sounds of the race and cars. He's also sure about his sexuality, but the one man he's always crushed on hasn't been interested. Until now.
Gage Bell considered Ryan the one that got away—except he never pursued Ryan in the first place. He's done trying to ignore the way Ryan makes him feel, and an incident on the track has given him the right incentive to find the sweetness he's always known was in Ryan's arms—if Ryan will give him an inch and let him take the wheel.
Gage is ready to rub the right man.
EXCERPT:
Ryan collapsed on his bed that night and fell asleep as soon as his head hit the pillow. In his dreams, he ran into Gage.
He replayed the incident with Gage over and over, but each time with the same frustrating outcome. Anger and a fight. In the dream, Gage lashed out at him. Instead of hitting Ryan, he yanked him close. Ryan gazed into Gage's eyes, and his frustration melted. He'd wanted to be this close to Gage for so long. The man's gaze was magnetic. Ryan's skin sizzled and his nerve endings tingled.
Something around them buzzed. Ryan reached for Gage, only to have the man fade away. Fade away? How… Ryan sat up and glanced around his bedroom.
Damn. Being with Gage was only a dream. He scrubbed both hands over his face and grunted. So much for sleeping. He noticed the time on the digital clock. Nine a.m. Shit. He'd missed chores. Now, he knew what the buzzing was—the doorbell. He climbed out of bed and raked his fingers through his hair. He still had the same clothes on from the night before.
He trudged barefoot through the house to the front door. Whoever wanted him wasn't in the living room. Odd. If his father was there because Ryan had missed chores, then he would've been standing in the middle of the living room or would've barged into Ryan's bedroom.
He grasped the door handle and opened the door. Instead of his father on the stoop, Gage waited on the small porch.
"Gage?" Now, he wished he'd have changed his clothes or at least brushed his teeth. "Can I help you?" He drank in the image of Gage. The faded jeans hung low on Gage's hips and the T-shirt stretched tight across his broad chest. He'd cut his sandy blond hair, and the new do worked wonders on Gage. The shorter cut brought out the shape of his brown eyes and chiseled chin. Ryan longed to run his hands over that chest and to feel Gage beside him. God, he had it bad for Gage Bell.
Gage bowed his head, and his voice dropped an octave. "Can we talk?"
You can purchase Romancing the Sweet Side at:
All Romance eBooks
Amazon
About the Author: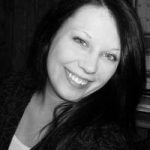 I've always dreamt of writing the stories in my head. Tall, dark, and handsome heroes are my favorites, as long as he has an independent woman keeping him in line.  I love playing with words and letting the characters run wild.
NASCAR, Ohio farmland, dirt racing, animals and second chance romance  all feature prominently in my books.  I also write under the pen name of Megan Slayer. I'm published with Total-E-Bound, Changeling Press, Liquid Silver Books, Shara Azod Publishing, Turquoise Morning Press, Decadent Publishing and The Wild Rose Press. Come join me for this fantastic journey!
You can find our more about Megan and her books on her website.