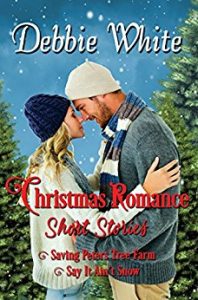 Saving Peters Tree Farm by Debbie White
After the death of her father, Charlotte Peters makes the big decision to move back to Archer Lodge, North Carolina to help her mom and the family's failing Christmas tree farm. After a quick stop into the local hardware store, Charlotte is confronted with a part of her past she'd nearly forgotten about. Or had she? Can Charlotte stay focused on why she came to Archer Lodge and let the past be the past, or will her heart be broken once again?
Say It Ain't Snow!
Melissa Curry is desperately trying to save her family's ski resort. The drought has done everything it can to dry up their business. When she discovers the town council is planning a detour through the city that will likely chase the rest of the tourists away, Melissa jumps into action to save the day and the town.
Excerpt from Saving Peters Tree Farm
Charlotte called a team meeting to discuss final plans. Her team included her mom, Wiley, Ryan, and Neil. She wanted to make sure everyone had their part done and knew their role in the festival. Mrs. Peters had made snacks, and as everyone gathered around the huge oval dining table, the group discussed and munched away on Mrs. Peters' delectable treats.
"Mom, how do you feel about helping with the roasting pit?"
"I definitely would love that, Charlotte," her mom replied.
"You'd make sure supplies were available and help the little children skewer their marshmallows," Charlotte said with a bit of a businesslike tone.
Charlotte's mom nodded her head. "Understood," she said as if she were in the military.
Charlotte smiled. "Wiley, you're going to be in charge of the hayrides. You'll make sure everyone is safely seated in the trailer before you start up that tractor. We don't want any injuries," Charlotte said.
Charlotte looked up from her paper and saw Wiley saluting her. Looking over her flock of helpers, she said laughing, "Okay. That's twice I've been referred to as a military leader, in some form or fashion."
"No, you're doing a great job supervising this huge undertaking. We're just trying to keep things happy around here," Wiley interjected, looking around the group for moral support.
"He's right, Charlotte. You're doing a fantastic job. You know us. We're troublemakers," Neil said, playfully punching Ryan.
Wiley could sense they'd touched a nerve with Charlotte. The stress of pulling off such an event was overwhelming. "Yeah, Charlotte. We're just giving you a hard time. We don't mean anything by it," he said, gently squeezing her arm.
Charlotte looked around at the group. All eyes were upon her. She cleared her throat and continued. "And just in case you're wondering what I'll be doing…I'll be walking around handing out flyers and talking to people about what we'll be doing here at Peters Tree Farm during the Christmas season. I want to make sure that everyone who walks through our little gate knows us as the fun Christmas tree farm with the best Christmas trees. Hopefully, we'll have a win under our belt too. That would be an added bonus. We need to build repeat customers. I'll also be pitching in wherever I'm needed," Charlotte said, beaming.
"We have just a couple of days left, so please get the word out by telling all your friends and neighbors. And for all you Facebook and Twitter fanatics—hashtag petersfarm." Charlotte giggled.
"Thank you all so much for your hard work. Mom and I both thank you," Charlotte said, pulling her mom close for a hug.
Motioning for the group to join them, Charlotte called out, "Everyone in for a group huddle. On the count of three," she yelled.
And then, the group high-fived each other.
A tear formed on Charlotte's bottom eyelid. She was so happy with how things were shaping up. She knew her father would be proud.
Excerpt from Say It Ain't Snow
Melissa drove up the long driveway and parked. She almost didn't recognize the place. The guys had made a lot of progress and soon they'd begin constructing the pavilion. Melissa could envision twinkling white lights, glowing logs in the fire pit, and low music coming out of the speakers. She was already planning the landscaping—lavender and other drought tolerant plants in redwood planters and hanging baskets of lantana would bring the color she was looking for. She took in a deep breath. The smell of freshly cut redwood filled her nostrils.
Melissa stood back for a moment watching Trent as he operated the small back hoe. She quickly moved her attention from Trent to the rest of the crew and watched for a moment while they wrestled with some huge boulders. After a few minutes of watching them, she resumed watching Trent. When he finally looked her way she flashed him a smile and a wave at the same time. He cut the motor off of the small tractor and soon made his way toward her, a huge smile stretching across his face.
"Trent, everything looks great. I can't believe my eyes." She gently caressed his arm. She could feel him stiffen slightly when she touched him.
"I'm glad you approve. I think it is coming along great, too."
Melissa motioned to the picnic table. "Can we talk?"
Trent followed her over to the bench and sat down. He wiped the sweat from his brow, brushing his hand on his jeans. "What happened?"
"I did as you suggested. I tried to persuade him I had some kind of negative evidence. But without actually handing it over to him, he didn't believe me for one second."
Trent lightly rapped his fingers on the redwood picnic table. He gazed off toward the road and then fixed his gaze on her. "I have one more ace in the hole."
Melissa's eyes widened. "Oh?"
Trent scooted closer toward her. He leaned in close. As Melissa listened to Trent, her eyes widened as the details unfolded. She nodded every now and then acknowledging what he said. When he finished, she leaned back and stiffened her back straight, letting out a sigh. A sly smile fixed on her mouth. "I see. This changes a lot."
Trent lowered his head. He brushed his hand through his hair. Melissa could see that it pained him to tell her what he'd just divulged. She reached over and caressed his arm. "I'll be careful. He won't know you said a thing," she said, her face softening.
Their eyes locked for a moment and then Trent leaned in and kissed her. She closed her eyes and took in the softness of his mouth. She leaned back and smiled. "That was nice. I wasn't expecting that."
"I've wanted to do that for a while," Trent said softly.
Melissa widened her smile. "Well…if I'd known how nice it was going to be, I would have encouraged you to kiss me long before now," she said, letting out a giggle.
Buy Links:
https://books2read.com/u/bQZKj0
https://www.amazon.com/Christmas-Romance-Short-Stories-Debbie-ebook/dp/B01LWJW1G0/ref=asap_bc?ie=UTF8
About the Author: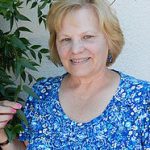 Debbie currently lives in northern California where the jagged coast meets rolling hills dotted with vineyards. When she's not writing the next best-selling romance novel, she's spending time with her family, traveling, wine tasting and anything to do with the outdoors.
Visit Debbie online at her website
Facebook