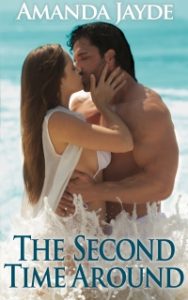 Resolutions by Amanda Jayde
Every year I say I'm not going to make one, yet every year I stand at the white board in my office and write down three things that I hope to get accomplished.  Sometimes I manage to get them done, most times I don't.  The failure doesn't disappoint me; I just use it to push me the next year.  This year as I stood in front of my white board I wrote down the three top things I want to do, number one is always the same: GET A BOOK OUT.  I only barely managed to do that at the end of '16 by self-publishing my newest release The Second Time Around which is an island romance that I've playing with off and on for about 12 years.
My second resolution is another I try to do every year and that is just enjoy life.  Whether that means go on more vacations, or just being in the moment when I'm with my family.  Life is too short and I need to be able to sit back and take it in.  It's something I wish for everyone to do.  I'd also like to get out and see my friends, we're spread across the country so any opportunity to get together is a cherished one, and I'd like to get out and meet more readers and do more conventions.
Lastly my third resolution is to finish the latest wolf book in my series, which has been in limbo for far longer than I'd like to admit.  However, I promised myself if I could get this done by March – this could be the answer to resolution number one.
I guess all in all, I'm hoping 2017 will give me the opportunity to write more, and play more and, fingers crossed, I'll be able to keep these resolutions this year.
All the best,
Amanda Jayde
www.amandajayde.com
www.twitter.com/AuthorAmandaJ
www.Facebook.com/AuthorAmandaJayde
Instagram: @authoramandaj
Sneak Peek at Second Time Around:
Chayton "Falcon" Baker thought his life was settled. Leaving the reservation, he was finally going to establish himself to everyone back home. He would show them that he was just as worthy of certain rewards as anyone and he would prove it to her, even if she'd never know. His newest event, a benefit for the widows and children of fallen heroes, had all the makings of a success. If he could get it off the ground without a hitch.
He was right on track. Then she showed up and turned his life upside down.
Jasmine was happy with how her life had turned out. Sure, she had no steady boyfriend, hadn't had one in months, but she wasn't worried. After all, she still had her fantasy life. So what if her most erotic dreams featured a man she hadn't laid eyes on in five years?
But now, her best friend has asked her to make the ultimate sacrifice. Go back to the resort where she'd found and lost Falcon. Telling herself that she had nothing to worry about, after all, he had probably moved on. She could go, purge her demons and finally, finally put him and the memories they'd made behind her.
She was wrong.
Coming face to face with the one man who had the ability to make her body hum, the man she'd nearly given her heart to, would she be able to walk away so easily again?