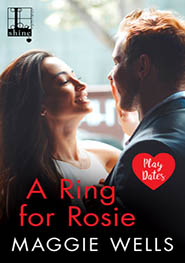 A Ring For Rosie: Play Dates #3 by Maggie Wells
Once burned, this father of twins is twice shy until he realizes the right woman is the charm . . .
James Harper is a great dad, but a lousy judge of women—as evidenced by his twin boys' flighty mother, who walked out when the babies were just six weeks old. He's got fatherhood down, but dating is another story—especially when the twins' mom shows up any time she needs something. His office manager, Rosie Herrera, is the one woman he can count on, actually talk to, flirt with, and . . . come to think of it, has he been overlooking the perfect woman all this time?
Rosie's been in love with James since her first day on the job, but she's certain he only sees her as a reliable employee—until one heated kiss changes everything. And then James's ex shows up, and walks right into his life again. Determined to move on, Rosie tries to forget everything she feels about James—by doing her best to fall for someone else. But James isn't about to make the same mistake twice. To woo Rosie this time, he needs to prove they're made for each other . . . forever.
You can purchase A Ring For Rosie at:
Kensington Books
For two gay men in the Deep South, fighting for love and family can lead to one beautiful, sexy, and unexpected knock out . . .
In college, an "are you sure you're gay?" experiment with his (female) best friend left Sterling Harper married with a baby on the way. Eleven years later, his life is flipped upside-down—his wife has died, his "little boy" is transitioning to her new life as a girl, Alexa, and his embittered in-laws have proven too transphobic to babysit for the summer like they'd planned. They're fighting for custody of Alexa, though, so Sterling can't afford to give them more ammunition. If only there were a nice, conservative, trans-preteen-friendly nanny available on short notice . . .
Jericho Johnston doesn't do "conservative," but Alexa takes to him immediately. He's got a teaching job lined up for the fall, a killer smile, and loads of charisma . . . but he is not going back in the proverbial closet. It doesn't take long for the two men to go from comrades-in-arms against their rarified community to two men in love. This kicks off the looming custody battle with Sterling's bigoted in-laws, though, and the idea of two gay men raising a trans daughter isn't going over well with anyone. Now, with so much to lose, Sterling and Jericho must fight harder than ever—for themselves, for Alexa, and for their future.
Her life in beautiful Arrowhead Bay seems like paradise. But for former CIA operative Marissa Hayes, it's a deep cover she's forced to live under after daring to take down a powerful enemy with strong terrorist ties. Out of necessity, she keeps her emotions as guarded as her life, even as she finds herself drawn to Justin Kelly, the most arousing man she's ever met. But when Marissa must find a new place to hide, the able-bodied Vigilance agent is the first man she turns to . . .
Justin can't get close to Marissa, if he hopes to keep her alive. Which only makes sharing a villa with her at a remote island resort all the more challenging. The passion rising between them is exquisite—and excruciating. Even more so when terrorists infiltrate the island, putting Marissa in the crosshairs. Now Justin will do anything to protect the woman he cares about more deeply than he dares to admit. . . .
You can purchase A Deadly Business at:
Kensington Books
In a high-stakes world of privilege, betrayal, and the sexy thrill of the unknown, you never know where a dangerous distraction will lead . . .
Cal Hart walks a blurred line of honor. The rock-hard retired soldier has his lethal skills at the service of the highest bidder. Until a contract comes in to kill Lana Vanderpoel, the sultry, charismatic heiress and billionaire's daughter. She's way too sexy to end up at the wrong end of a silencer. So Cal takes the job—and starts planning how to get Lana to safety while he unearths who's behind the threat . . .
Lana only knows she's been kidnapped—and she'll fight tooth and nail against whoever has snatched her from her life. Her stern-faced captor sends a tremor of ice through her veins, yet a thrill lies beneath her unease. He's dark and dangerous, his body ripped, honed, and capable. But lust isn't the same as trust—and whether or not she can believe what Cal's telling her, there's at least one person close to Lana who wants her dead . . .
You can purchase Abducted at:
Kensington Books