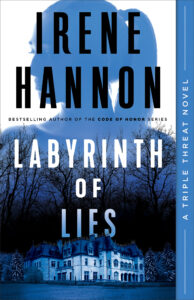 Labyrinth of Lies by Irene Hannon
Detective Cate Reilly and former colleague Zeke Sloan—the man who once stole her heart—are reunited when she goes undercover at an exclusive girls' school and discovers that no one is who they seem to be . . . and danger waits at every turn.
Danger Awaits on a Covert Mission Where Few Are Who They Seem to Be
"The surprise ending has a twist readers will not guess." —Military Press on Point of Danger
Ada, Mi.—Dubbed the "Queen of Inspirational Romantic Suspense" by Library Journal, bestselling author Irene Hannon has mastered the craft of writing spellbinding tales that keep readers on the edge of their seats. In book 2 of the Triple Threat series, Labyrinth of Lies, Hannon ramps up the action once again as she invites readers to scale the heights of human folly and plumb the depths of the human heart.
When the daughter of a high-profile businessman disappears from an exclusive girls' boarding school, police detective Cate Reilly is tapped for an uncover assignment. However, it doesn't take her long to realize that beneath its veneer of polish and wealth, Ivy Hill Academy harbors dark—and deadly—secrets. But the biggest shock of all? The only man she ever loved is also working at the school.
Zeke Sloan has never forgotten Cate, but now isn't the best time for their paths to cross again. When their two seemingly disparate agendas begin to intertwine—and startling connections emerge among the players—the danger escalates significantly.
But who is the mastermind behind the elaborate ruse? And how far will they go to protect their house of cards?
An Interview with Irene Hannon
Can you briefly describe your new book, Labyrinth of Lies?
Detective Cate Reilly and Zeke Sloan—the man who once stole her heart—are reunited when she goes undercover at an exclusive girls' school and discovers no one is who they seem to be . . . and that danger waits at every turn.
Labyrinth of Lies is the second book in the Triple Threat series. What is the underlying connection for all of the books in this series?
Each book features a different Reilly sister, all of whom are involved in truth-seeking professions that put them in the line of fire.
What was the inspiration for your book?
I thought it would be interesting to explore a reunion under challenging circumstances between two people who once loved each other, and also to create a plot where many people are living a lie.
Why did you choose St. Louis, Missouri, as the setting for your novel?
Easy research! No kidding. My suspense books require huge amounts of research, so using a setting I'm familiar with eases the research load a bit. Since setting isn't a major factor in my suspense books, the St. Louis area works as well as any other location.
You have the gift of mixing suspense with just the right touch of romance. How do you find the perfect balance?
Thanks for saying that! It is, indeed, a balancing act. I once had a reviewer from a prestigious review site say he liked my book but couldn't decide whether it was suspense or romance. To me, that was a compliment—though I'm not certain he meant it that way. I generally alternate scenes of danger with quieter moments that focus more on the relationship. That allows me to develop both parts of the book and gives readers a bit of breathing space between suspenseful scenes.
You have stated that your writing style is more "Alfred Hitchcock than James Bond." Can you expand upon what you mean by this statement?
This is a nice segue from the last question. I classify the James Bond style as action-adventure. Those books/movies are almost nonstop action. But for me, that leads to "danger fatigue." I've read books where every scene includes a life-and-death situation, and after a while the danger loses its impact. I prefer the Hitchcock style, where action is interspersed throughout the story but there's more of a slow build to a dramatic climax. Also like Hitchcock, I like deep character dives and an emphasis on psychological suspense. After all, the workings of the human mind can be every bit as scary—if not scarier—than a gun battle or car chase!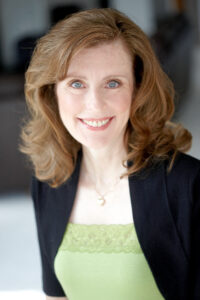 Irene Hannon is the bestselling author of more than sixty novels, including the long-running Hope Harbor series, as well as Point of Danger and the Code of Honor, Private Justice, and Men of Valor suspense series, among others. Her books have been honored with three coveted RITA Awards from Romance Writers of America, and she is a member of that organization's elite Hall of Fame. Her many other awards include National Readers' Choice, Daphne du Maurier, Retailers' Choice, Booksellers' Best, Carol, and Reviewers' Choice from RT Book Reviews magazine, which also honored her with a Career Achievement Award for her entire body of work. In addition, she is a two-time Christy Award finalist. Learn more at www.irenehannon.com.
Labyrinth of Lies
by Irene Hannon ISBN: 9780800736187 | Ebook ISBN: 9781493431779 | 384 pages, paperback | $16.99 | October 2021