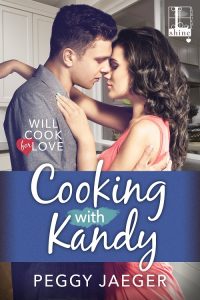 Sharing Secret Recipes by Peggy Jaeger
Writing a book about a chef-lebrity comes with inherent conditions, one being, the person writing the tale should know how to cook. After all, for people to believe your character, you need to prove you can walk the walk, talk the talk. So when I was plotting out COOKING WITH KANDY and the subsequent books that come in the WILL COOK FOR LOVE SERIES, I did some serious research into my 120 + personal cookbooks and my own recipe file that I've been amassing for thirty years.
When I mentioned I was going to do this to my loved ones the first response I got was "Don't do it!! Don't give people your secret sauces, or the baking recipes!" I asked why not and was told – in all seriousness – "we don't want to share them."
Okay, so selfishness aside, I kind of understand this. When my daughter was little there were foods she wouldn't eat unless I prepared them a certain way, using "special" ingredients just for her. My husband, although not a fussy or picky eater, likes things that I make especially for him and no one else. So when this request was made, I understood what they were asking and I acquiesced.
Back into the recipe vault I went and pulled some of my favorites, not theirs. The ones I was willing to share.
Keeping certain recipes "in the family" is a character trait I instilled into Kandy Laine when I was writing COOKING WITH KANDY. There are about 2 dozen recipes from her grandma Sophie that Kandy has never shared with anyone.  She tells this to Josh, the hero, explaining she keeps them just for her and for her family. By not publicizing them, it gives her a sense her grandmother is still with them, cooking just for them, making the foods that always made the members of her family each feel special and loved.
So, all the recipes you will see in my series are from my own personal recipe vault (and it really IS a vault!) and are some of my favorites that I am more than happy to share. There are a few, though, that I'm keeping close to home.
COOKING WITH KANDY by Peggy Jaeger
Sugar and spice and everything sexy make the perfect recipe for romance in this brand-new series by Peggy Jaeger. Look for exclusive recipes in each book!
Kandy Laine built her wildly popular food empire the old-fashioned way—starting with the basic ingredients of her grandmother's recipes and flavoring it all with her particular brand of sweet spice. From her cookbooks to her hit TV show, Kandy is a kitchen queen—and suddenly someone is determined to poison her cup. With odd accidents and threatening messages piling up, strong-willed Kandy can't protest when her team hires someone to keep her safe—but she can't deny that the man for the job looks delicious. . .
Josh Keane is a private investigator, not a bodyguard. But with one eyeful of Kandy's ebony curls and dimpled smile, he's signing on to uncover who's cooking up trouble for the gorgeous chef. As the attraction between them starts to simmer, it's not easy to keep his mind on the job, but when the strange distractions turn to true danger, he'll stop at nothing to keep Kandy safe—and show her that a future together is on the menu. . .
You can purchase COOKING WITH KANDY at:
Kensington Books
About The Author: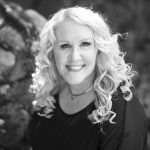 Peggy Jaeger is a contemporary romance author who writes about strong women, the families who support them, and the men who can't live without them.
Peggy holds a master's degree in Nursing Administration and first found publication with several articles she authored on Alzheimer's Disease during her time running an Alzheimer's in-patient care unit during the 1990s.
In 2013, she placed first in two categories in the Dixie Kane Memorial Contest: Single Title Contemporary Romance and Short/Long Contemporary Romance.
A lifelong and avid romance reader and writer, she is a member of RWA and her local New Hampshire RWA Chapter.

Author Links:
Website:  https://peggyjaeger.com/
Twitter: https://twitter.com/peggy_jaeger
Facebook: https://www.facebook.com/PeggyJaeger.Author/